LINCOLN ELECTRIC®offers a wide range of plasma cutting products
Do You want to save time,money,effort and be able to cut parts as You need them?
Do You want to expand and grow Your Business with added potential income,by cutting for other People?
Do You want to own Your own Plasma Cutting Machine,let me show You how.I will help You establish affordability and the return on investment You can expect by owning Your own Plasma Cutting Machine.
 Please contact: 

Pierre 

to assist

  + 27 76 871 0002
Suited for small fabrication shops,training centers and schools.
Cutting range 1,000 – 1,000 mm up to 25 mm mild steel

The TORCHMATE  4400/4800CNC plasma cutting systems are designed for expanding farbrication shops.
High-end cutting table that could fit into any small-to-medium sized fabrication shop
Maximum cutting range: 1,250 x 1,250 mm for TM 4400 and 1,250 x 2,500 for TM 4800
Cutting up to 25 mm mild steel

The LINC-CUT  plasma cutting and marking without compromises
Suited for smaller fabrication shops with limited floorspace
Cutting range 1,500 – 3,000 mm up to 25 mm mild steel


The TORCHMATE 5100

  an Industrial 5×10 CNC Plasma Cutting Machine
Torchmate 5100 is our flagship 1,5m x 3m CNC plasma cutting machine. This robust, industrial table is built with production in mind.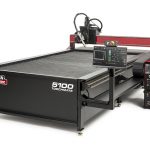 The 

PYTHONX   

pythonx steel beam cutting processing by a single machine
Replaces 5 or more machines in steel beam fabrication with a single process step.Operations like drilling,sawing,coping,marking and others are performed by a single machine.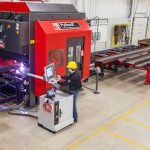 MASTERPIPE

compact profiler delivers efficient,accurate pipe cutting in a small footprint.
Ideal for roll cage fabrication shops, handrail and fencing manufacturers looking to increase the efficiency of profiling and cutting their pipes and tubes.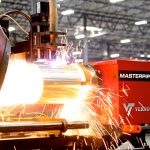 Whether the material at hand is pipe, structural beam or at plate, the plasma power source, the controller and the torch height control play a critical role in achieving the best cut possible. If your are planning to stay in the game – and more importantly, stay ahead of the game – you need to do your plasma cutting at a high volume and you need to do it right the ­first time.
LINCOLN ELECTRIC® have been making affordable cutting tables since 1979, and have accelerated our technological advances in motion control, height control, and manufacturing due to the acquisition by Lincoln Electric® in 2011. Lincoln Electric has made this international brand of CNC plasma tables a top-tier product in the world of plasma automation, and will continue to offer the affordability and quality that has made Torchmate a household name in the fabrication industry.Lincoln also offers Training Resources unmatched in the industry.
For more information of what Cosmo Automation Solutions can offer you have a look at Cosmo Industrial


plasma cutting table for sale, lincoln electric south Africa, beam cutter for sale, plasma cutting machines for sale, pipe cutter for sale, plasma cnc for sale, cheap plasma cutter, plasma table for sale, cutting machine, plasma cutting table, cnc plasma cutter for sale, cnc plasma, plasma torch, cnc plasma table, plasma table, plasma cutting machine, miller plasma cutter, Lincoln plasma cutter, cnc plasma cutter, plasma cutter for sale, plasma cutter, plasmacutters for sale, plasma cutting table for sale, Lincoln plasma for sale, Lincoln cnc plasma for sale south Africa, Torchmate plasma cutter for sale, Torchmate plasmacutters for sale, beam drilling lines for sale, beam cutting machines for sale, plasma cutting machines for sale, entry level plasmas for sale, affordable plasmas for sale, affordable plasmacutter for sale, cnc pipe cutter for sale, training plasma for sale